During the holiday season, you'll be sure to have no shortage of invitations to all sorts of holiday-themed events from corporate parties to dinners with family and friends to quite possibly, even a few dates. This means that you'll have plenty of opportunities to show off the very best and brightest in your wardrobe.
Typically, the thought of taking all of that in goes one of two ways: it either excites you or totally freaks you out based on what you already own. Thanks to this feature, though, you'll get an idea of how to magically put together some outfits based on what's already hanging in your closet and/or what you'll need to pick up—just to make your look extra holiday-themed special.
1. Red lace top, dark blue flare jeans and cream blazer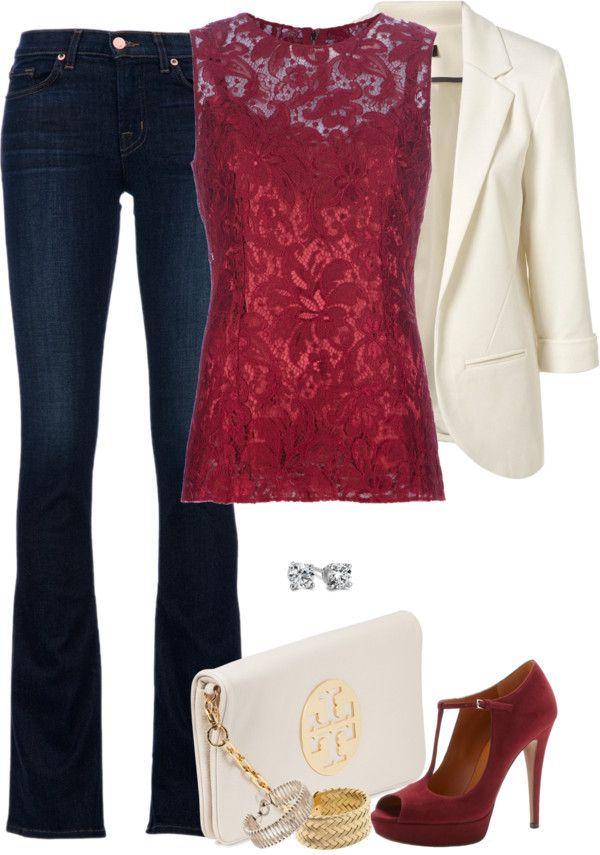 Red is pretty much a signature color for the holiday season but we personally prefer if people don't add a lot of green or gold (together) with it. Otherwise, you run the risk of looking like a walking Christmas tree! Instead, incorporate it with some white or cream and, for a casual look, denim jeans. This season, make sure they are flare cut. That's really in right now.
2. Glittery deep V-neck sleeveless top and black straight leg pants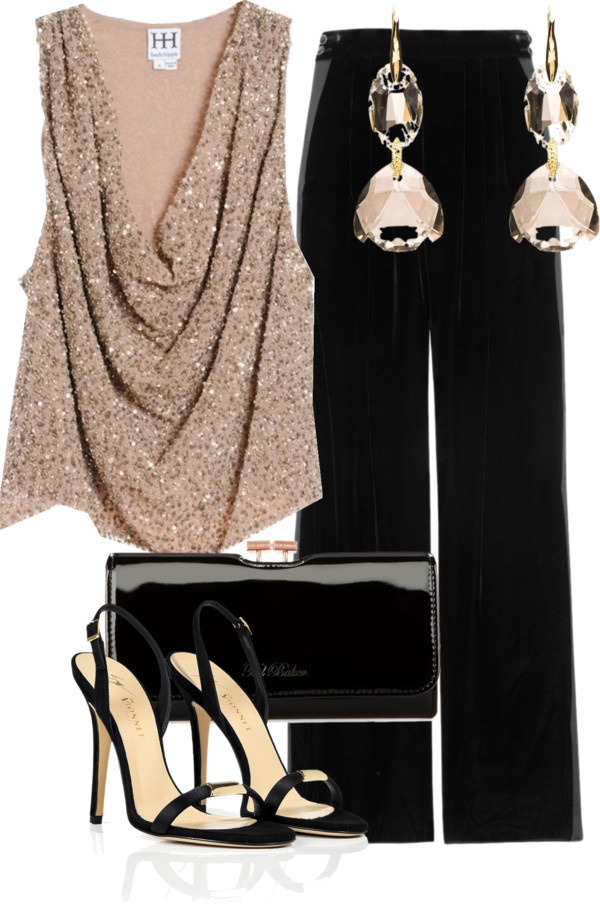 If you have a formal or semi-formal event coming up and you'd prefer to not wear a skirt or dress, that's OK. Some black straight leg pants will be more than appropriate so long as it's paired up with a glittery top like this one. By the way, deep V-necklines are trending right now. Wear them with or without a camisole. You'll look amazing either way.
3. Cream long sleeve top and sequin gold and grey sequin flare skirt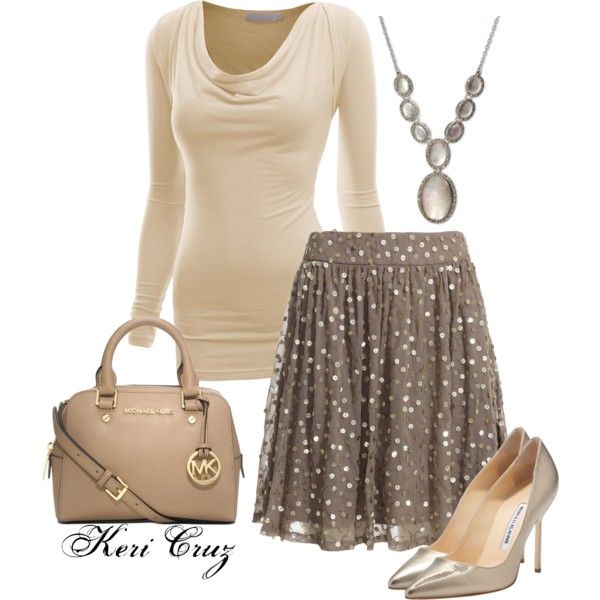 Here's an example of how a casual item of clothing can be "jazzied up" with something a bit dressier. The top is something that you could easily wear with jeans or even fleece pajama bottoms. But when you add a sequin flare skirt? You'll be walking holiday magic! And you can find more casual outfit ideas here.
4. Gold beaded top and dark denim boot-cut jeans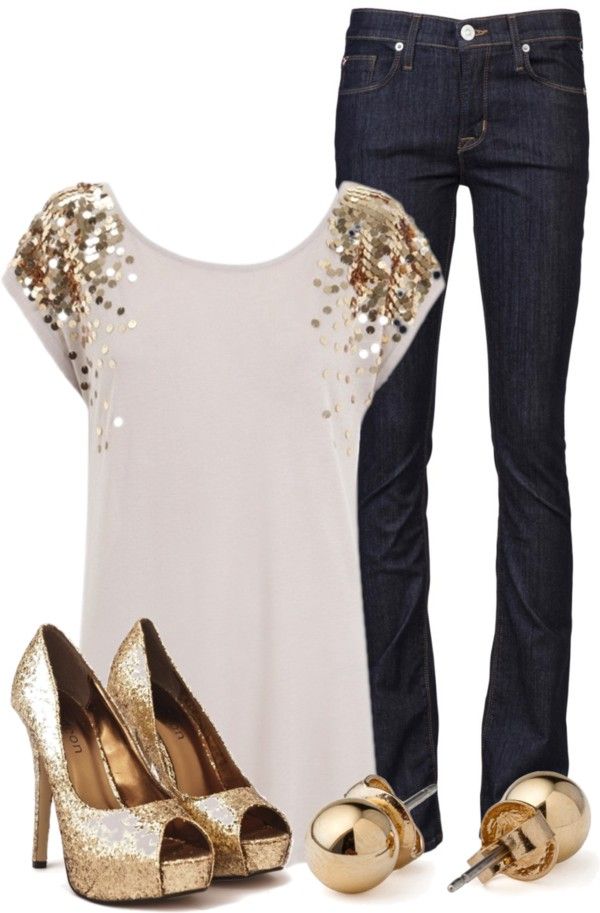 One misconception about boot-cut jeans is that they should basically only be worn with, well, boots. Personally, we think that couldn't be further from the truth. Just make sure that you wear heels instead of flats, though. Some sparkling gold ones like these would be absolutely perfect. Especially if they are complementing a top like the one featured here.
5. Off-white sleeveless peplum top, red cardigan and taupe pencil skirt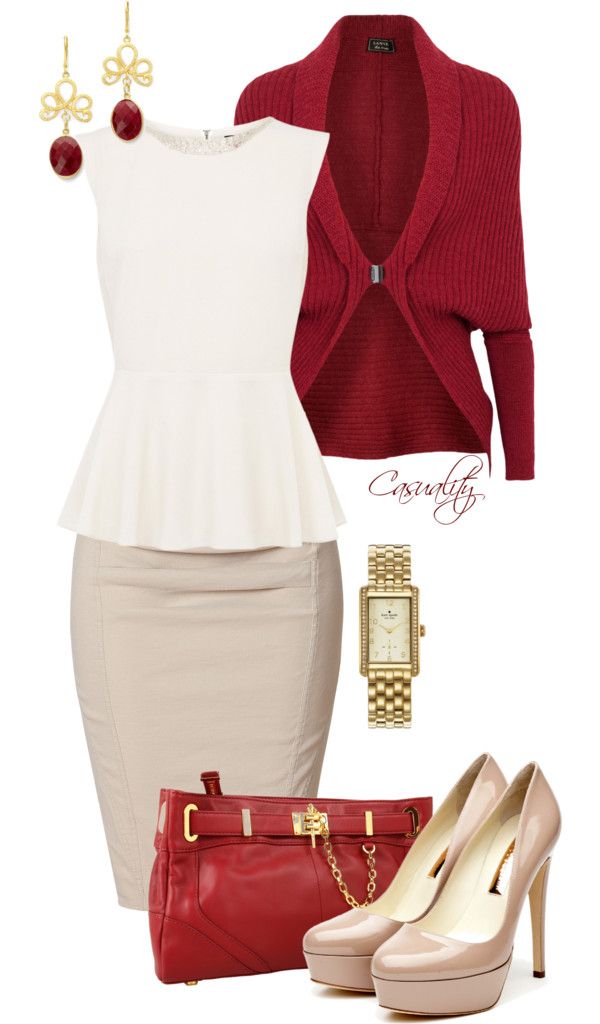 Peplum tops are all the rage right now. Something that we like is that the ruffle can help to hide any bit of a tummy bulge that you might be concerned about. As far as this off-white, red and taupe assemble, can't you see it being the perfect look for an office party? You don't even have to go home and change!
6. White sweater dress, black coat and red accessories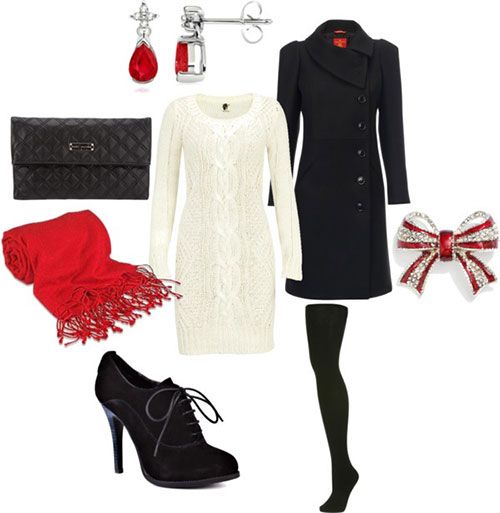 A lot of women are wearing sweater dresses right now. This cable knit one looks especially warm while also being quite feminine at the some. What makes it look more modern is that black accessories are being added to it (dig the shoes). And to make things a bit "holiday like", a red scarf, earrings and Christmas brooch are there to complete the look.
7. Dress with black sheer overlay and black cape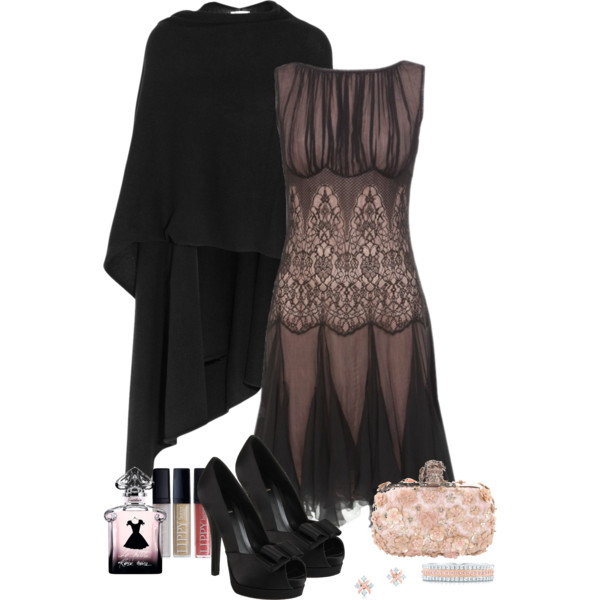 This is so sweet and vintage. And that's why we included it because antique and Victorian styles are all over the fashion runways this winter. In our minds, this is a nice look for an evening at the opera or even a wintertime wedding. You'll almost outshine the bride in something like this.
8. White long sleeve shirt, blue jeans and grey accessories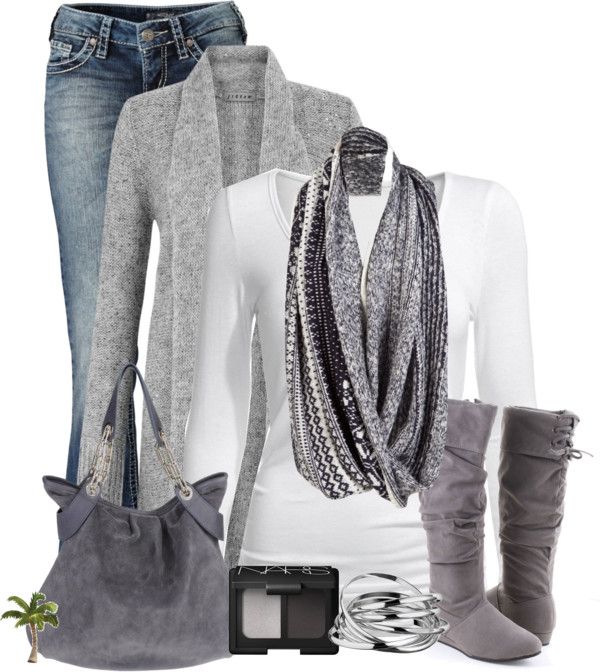 Going to dinner and a movie with friends? Go casual but still be stunning. One way to pull that off is to wear a lot of grey (stormy weather is a popular color right now. Don't go overboard, though. Choose a shirt in a different color and then add your favorite blue jeans into the mix. You'll be all set.
9. Red sequin top, black blazer and fitted jeans
Say that you made a date for after work, but you don't have time to go back home. No problem. Bring along a sequin top like this one and a clutch purse. You can swap it out for the top that you had on all day and you'll still look like you spent an hour in the mirror. Especially if the top is fire red.
10. Grey sequin top, sequin-embellished jeans and silver flats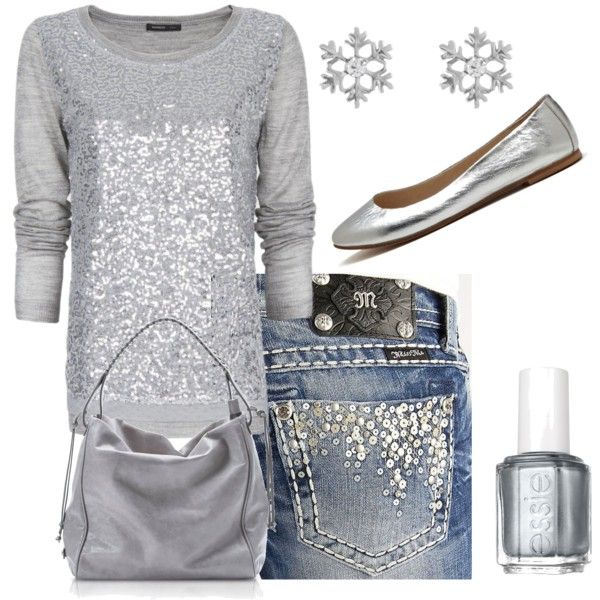 This is a festive kind of look for either going shopping with your mom or friends or going on a winter-themed vacation. Amazing how a few embellishments on comfortable clothing can make something this casual still look so…"dressy".
11. Black quarter-length top and crimson velvet maxi skirt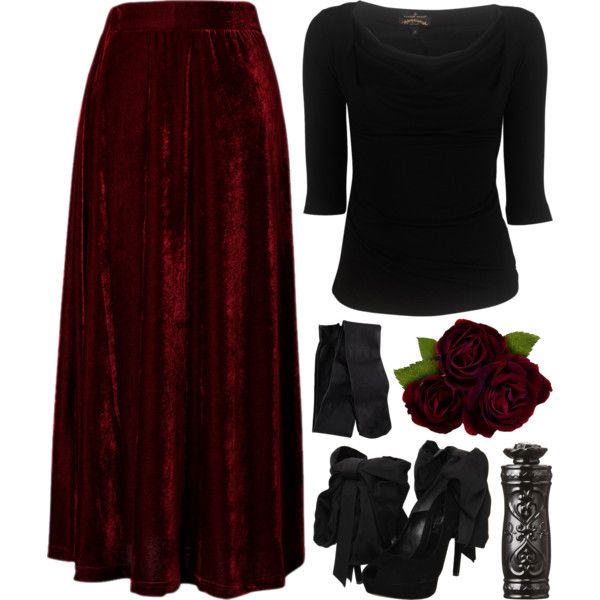 Being that velvet is another big trend, we had to make sure that we included an outfit that featured it. There is something that is so regal about a look like this. At the same time, velvet is very comfortable. So, you can wear a semi-formal outfit without feeling "too formal" in it.
12. White fitted T-shirt and black pencil skirt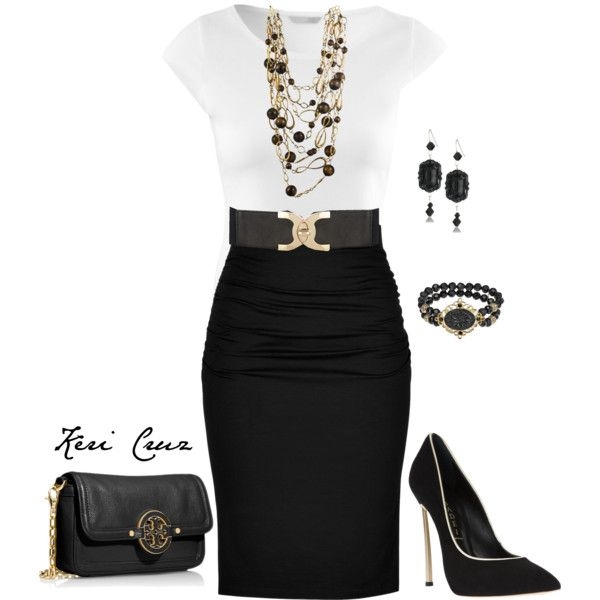 Another office party outfit. Or something that will be cool to wear while going for drinks after work. A pencil skirt hugs your curves, beautifully so. And with the right accessories, even a fitted T-shirt can seem a bit high-end.
13. Navy and silver festive outfit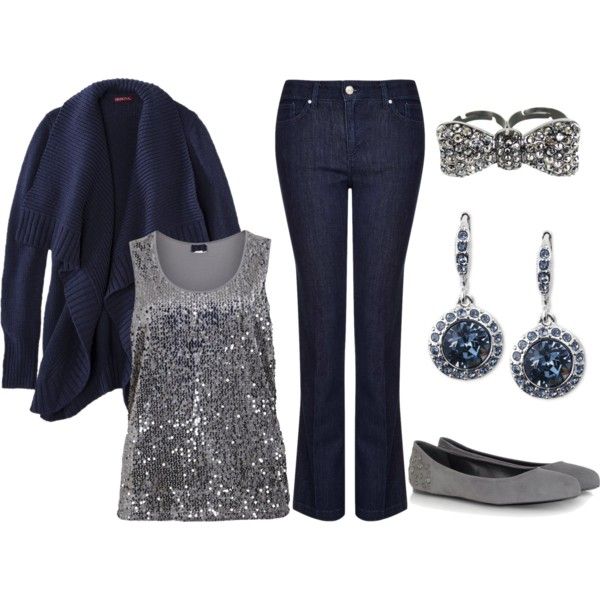 When it comes to color combinations, this has got to be one of our personal favorites! Dark blue and silver look pretty stunning on anyone's skin tone. Plus, this look shows how to layer appropriately. A thick cardigan will keep you warm while outside but if the temperature is in the 70s indoors, you can always take it off and reveal your sequin tank. The key here is to keep the jeans as dark as possible. That's what will prevent your outfit from appearing too casual.
14. Red and gold festive outfit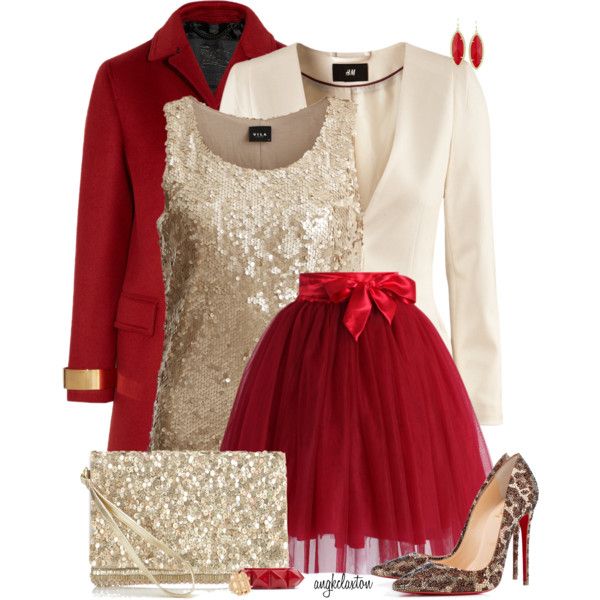 FORMAL. CHRISTMAS. PARTY. We don't know what more needs to be said. If there's a super dressy event coming up and you don't want to wear something that is long, a short tulle skirt will still do the trick. When it comes to these kinds of outfits, what catches our eyes is the accessories. In this case, isn't it awesome how the shoes are animal print? A nice contrast, for sure.
15. Dark floral printed dress and tuxedo jacket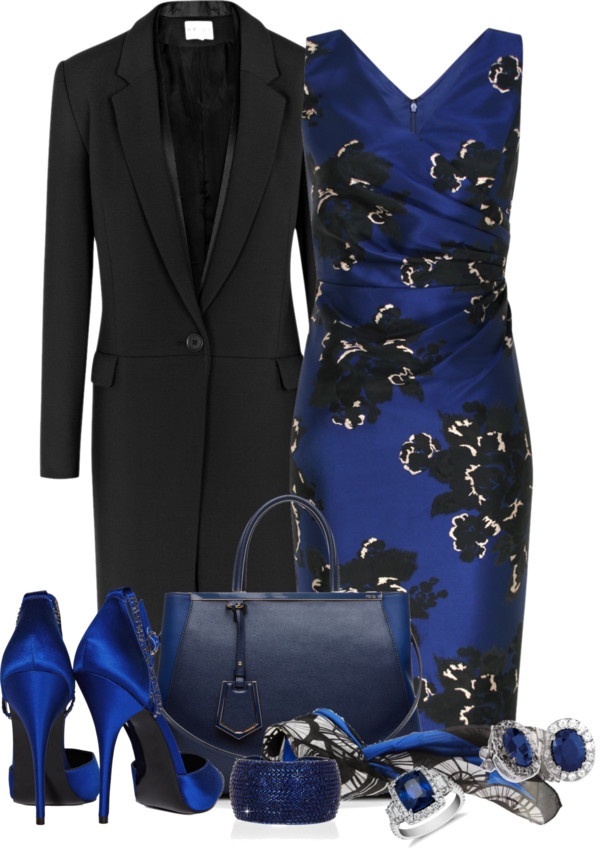 Going to a church pageant or perhaps midnight mass? This is the kind of outfit to go with. In fact, let's just put it out there: One of the best investments that you could ever make when it comes to your wardrobe is a tuxedo jacket. You can wear it with a T-shirt and jeans or with a beautiful dress like this one. And look like a fashion model. Either way.
16. Cream sleeveless top, black jeans and gold "trim"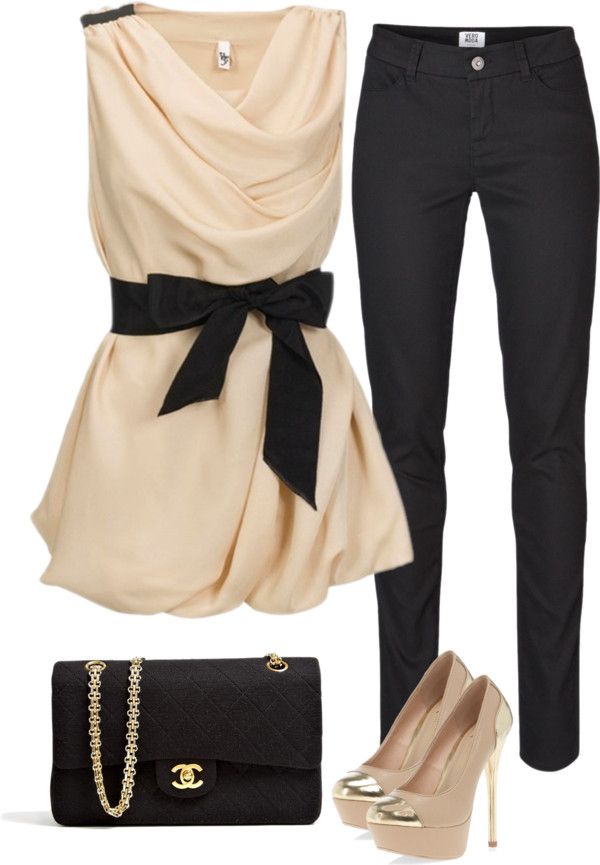 The top is cute. But with the help of the Chanel back and the steel-toe Stilettos, it's suddenly become sexy. In a very subtle kind of way. And sometimes subtle is what's best.
17. Gold glitter leggings and taupe long sleeve blouse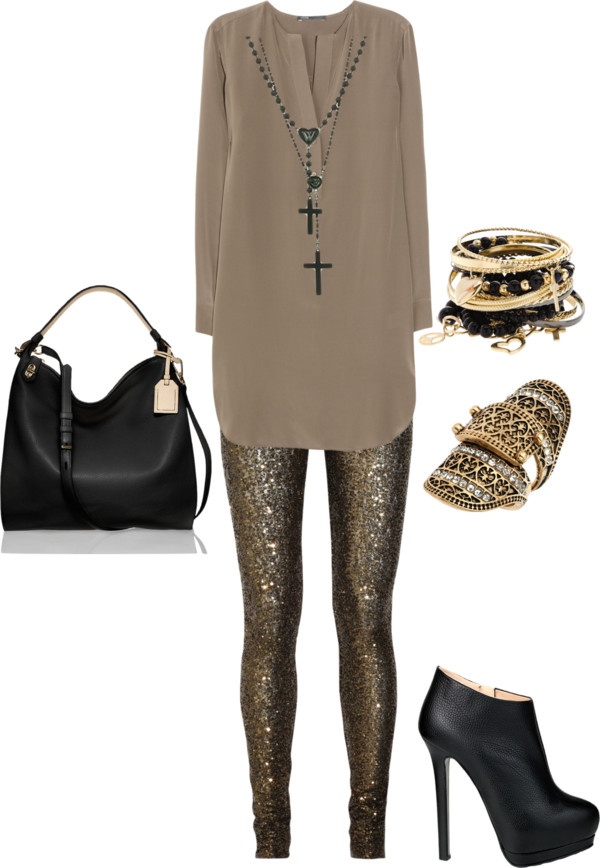 We're pretty sure how with just one look of this outfit, you can see why it was our feature picture. It doesn't require a lot of fuss and drama to pull this off. The flowing taupe blouse makes it possible for you to wear this look no matter what size you may be and how can you not be in love with this glittering leggings? You can wear an outfit like this so many different places, that's for sure!
18. Navy and gold dress with oriental print pumps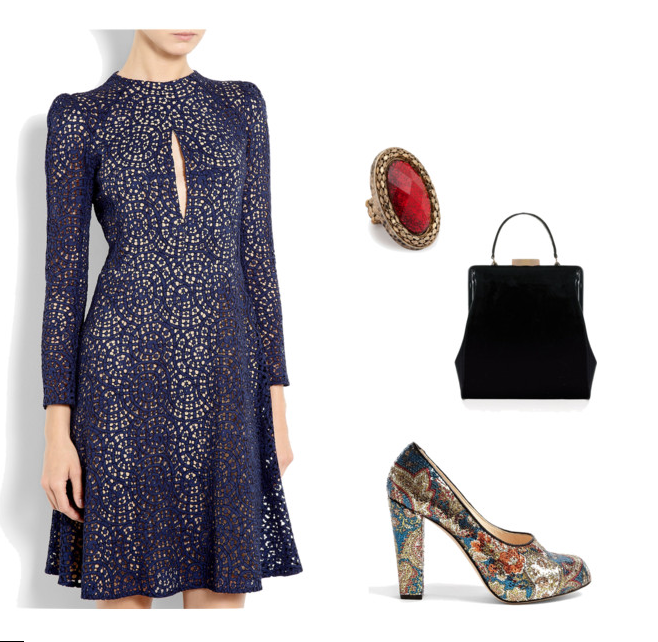 Does your boyfriend want to take you out for a night on the town but he told you that it's a surprise when it comes to where you're going? Put on something like this. It's dressy enough for a five-star restaurant and casual enough for a sushi bar. (Those shoes are beyond awesome!)
19. Gold sequin shirt dress and black opaque tights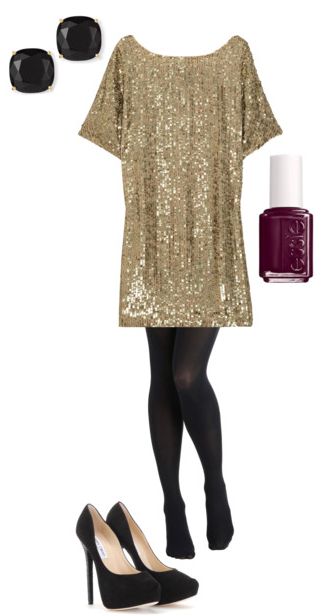 Oftentimes, when people think of shirt dresses, they think of oversized boyfriend button downs or T-shirt dresses. We were glad to find this example of another kind that you can wear. If it's got sequins all over it, you can make it work for a holiday occasion. Plus, this style of shirt dress works for pretty much any body type. It's basically a baby doll dress. And that's absolutely adorable.
20. Red sweater, blue quilted vest and jeans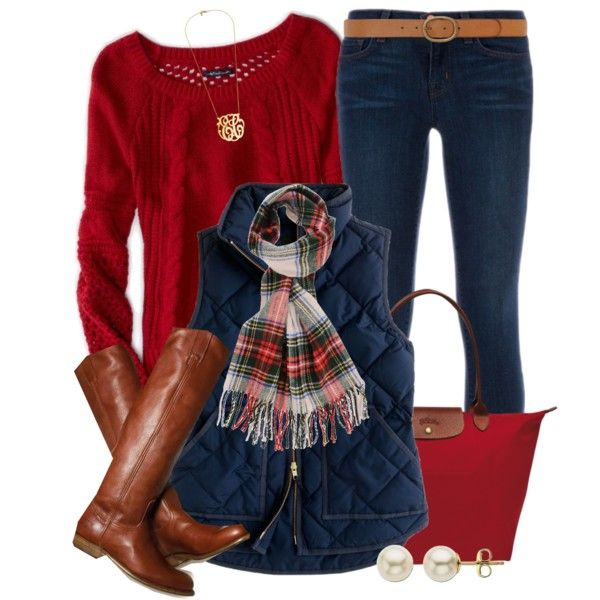 If you're planning on going hiking or skiing, you MUST take an outfit like this one along with you. There are a few  trends that it features. Plaid which is in the scarf. Pearls which are the earrings. And the monogrammed necklace.
21. Black silk sleeveless top and silver glitter mini skirt and accessories
Will he be able to take his eyes off of you if you walk into the room with a black and silver look like this? Somehow, we seriously doubt it! This is the perfect "dance the night away" holiday outfit. All you need is a faux fur coat over it and you're ready for whatever winter and the holiday season have to offer.
22. Emerald green wrap dress and matching suede pumps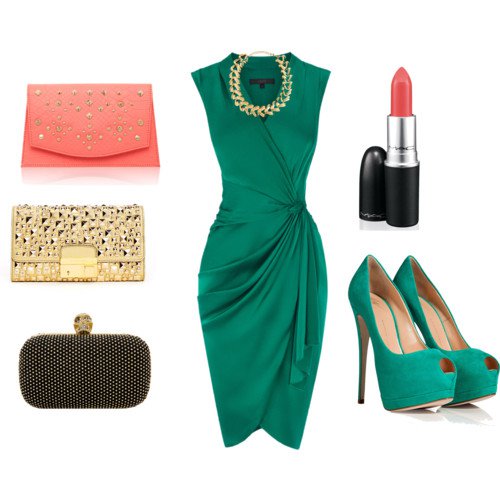 As far as holiday-themed jewel tones go, it doesn't get much more lovely and memorable than emerald green. Wrap dresses are a woman's best friend. And we simply can't get over those suede peep-toe Stiletto pumps. Can you?
23. Lace top, sequin cardigan and skinny jeans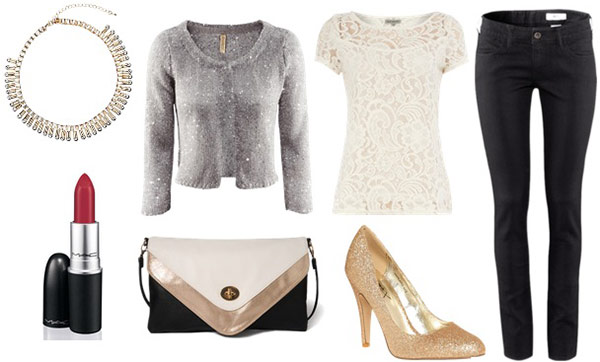 You will be so pretty—darn near adorable—in a look like this. In fact, this might be one of our favorite holiday date outfits. For one thing, it gives you a chance to put on your skinny jeans. But with a lace top and sequin cardigan, you'll be comfortable while still looking as sweet as an ornament hanging from a Christmas tree.
24. Beige lace long tank with matching blazer and distressed jeans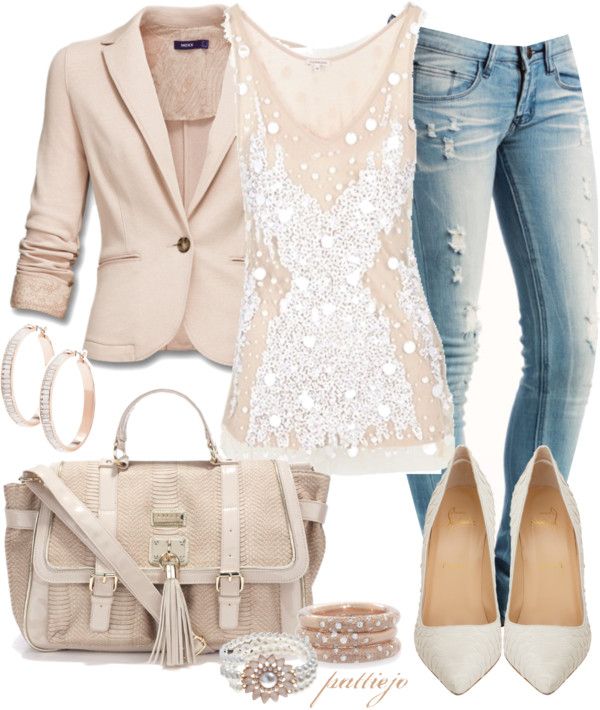 Is it just us or is there something about the lace on that tank that makes it look like snow is in the forecast? If you like wearing light colors, beige and white are quite appropriate for winter. It's just enough lighter hues without going overboard. Enjoy the holidays! And you can find more outfit ideas on stylesweekly!